Would joining a caring team dedicated to serving older adults and their families be your style? You've come to the right place.
Our Mission
Preserving the Goddard Hall tradition forever defines our way forward. We are the sincere, kind-hearted neighbor who answers when called, gives back gladly and eagerly serves Central Massachusetts older adults and their families.
Culture counts.
What makes a job truly satisfying? At Goddard & Hall Senior Living, we know that it's about more than just a paycheck and benefits. Real, meaningful work is found at a place that creates connections, celebrates successes, promotes growth and respects how each individual contributes to the team. These are the very hallmarks of our culture. And they make all the difference.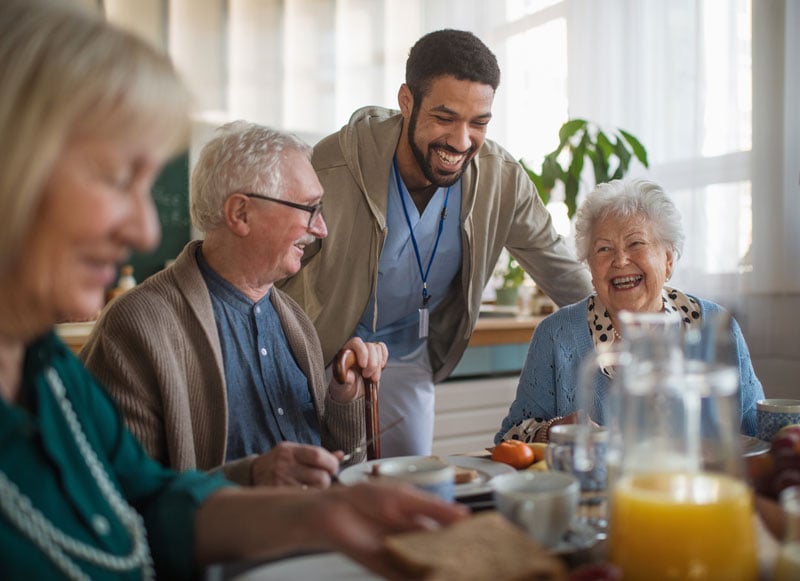 Belong to something special.
Build relationships
On our team, you can do satisfying, meaningful work while establishing relationships with older adults who love to share their wisdom, friendship and experiences.
Earn comprehensive benefits
Benefits include competitive wages, health insurance and paid time off. We offer a variety of positions for all types of skill levels and expertise.
Join the team!
We care about our employees and greatly appreciate what they do. Everyone here is considered part of the team, and we're committed to listening to input and creating opportunities for advancement.
Our Current Openings
Pre-employment requirements for all positions:
Annual Flu and COVID-19 vaccinations (including booster, as eligible) is required
Pre-employment physical and TB screening test
Staff are required to wear a mask and have daily health screening; personal protective equipment provided
Successfully complete background checks including CORI, SORI, OIG and Mass CNA Registry
Meet I-9 requirements
Apply now.
Fill out the application PDF below and attach it with your form submission.